Tempur Sealy is the worldĺs largest mattress manufacturer, present in over 80 countries. In Brazil, their exclusive collections can be found in the BedTime stores.
Their best-known brand, TEMPUR«, is the only one licensed by the US Space Foundation, with the open cell viscoelastic memory foam having been developed in a partnership with NASA.
Multi-brand E-commerce
The main challenge in working for a multi-national company like Tempur Sealy was developing a multi-brand e-commerce for a consumer audience of such high-end, ergonomic and practical articles in order to provide guidance on the differentials of the 3 brands available through the BedTime stores: TEMPUR«, Micro-Tech and the company brand BedTime.
Intelligent database
Consumers can learn about different products filtering their options through a visual multi-search system that enables browsing among the 3 brands, searching for their main products and their key features in comfort and purpose. The mechanism also counts with a search refining feature that allows other topics of interest to be signaled.
Discount Roulette and Purchase Vouchers
One of the websiteĺs objectives is to offer consumers the possibility of getting differentiated discounts for on-site purchases at the BedTime stores. Magic developed a virtual roulette that directs to a voucher redemption system linked to a search for the closest store.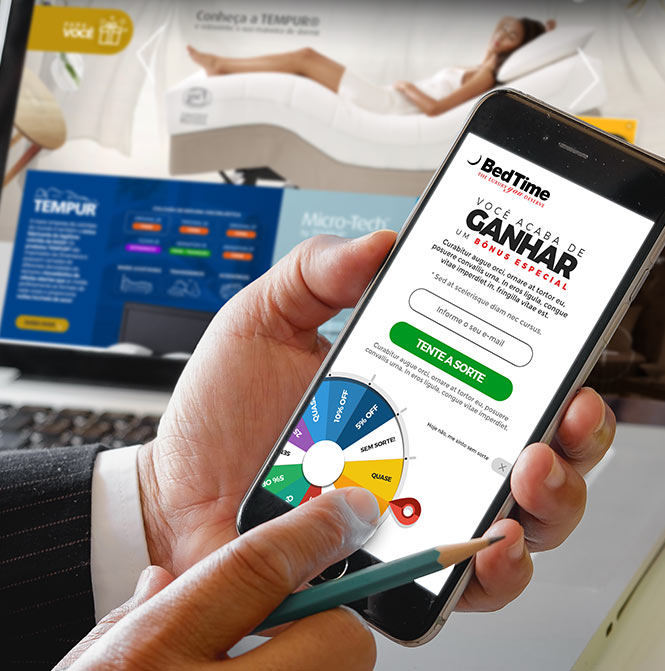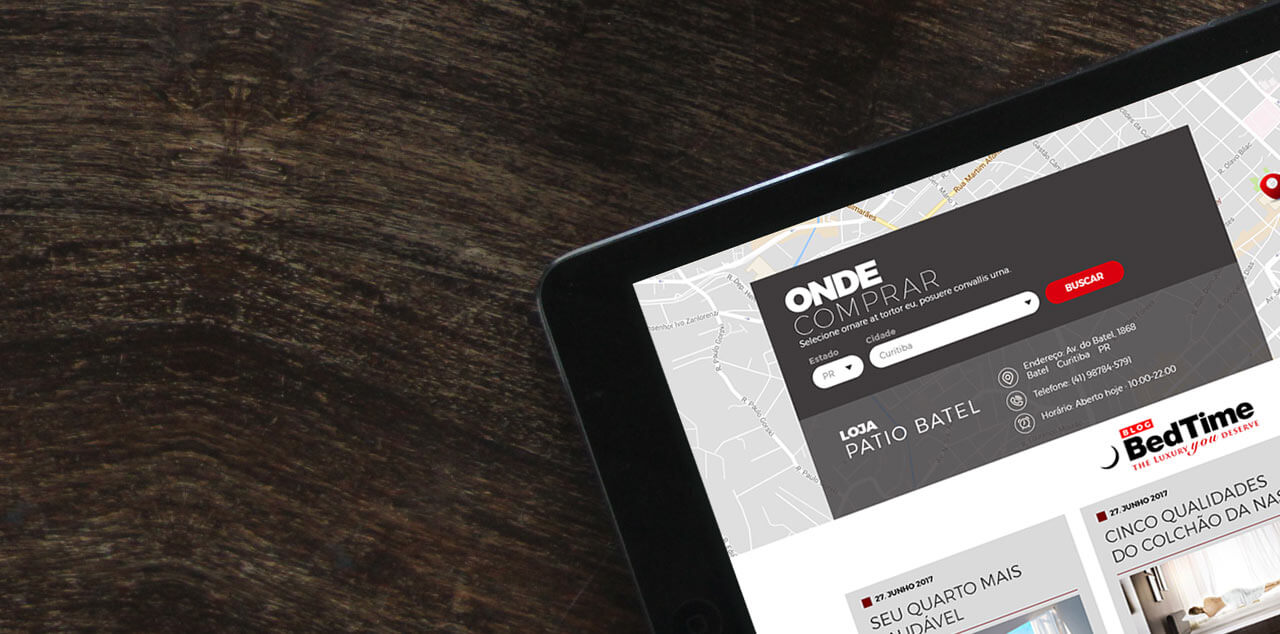 Store Locator
Intelligent system that acts through geolocation in integration with Google Maps, the locator allows users to find the nearest point of sales, exclusive BedTime stores or general stores.
Integration with Cia Shop Platform
The Tempur BedTime website is an exclusive Magic design with the objective of offering users a differentiated browsing experience, connected to all the forms of payment of a traditional store.
To this end, an integration to the virtual store Cia Shop platform was built, through API-based communication in order to preserve the integrity among the products available on the website and the store, resulting in a flowing and pleasant browsing experience.

Intranet
Sales Teams
BedTime Stores commercial teams have exclusive access to the intranet linked to the commercial voucher redemption tool. Sales attendants are able to track and monitor, in real time, orders placed at each store, as well as detecting eventual expiries of vouchers not redeemed by consumers.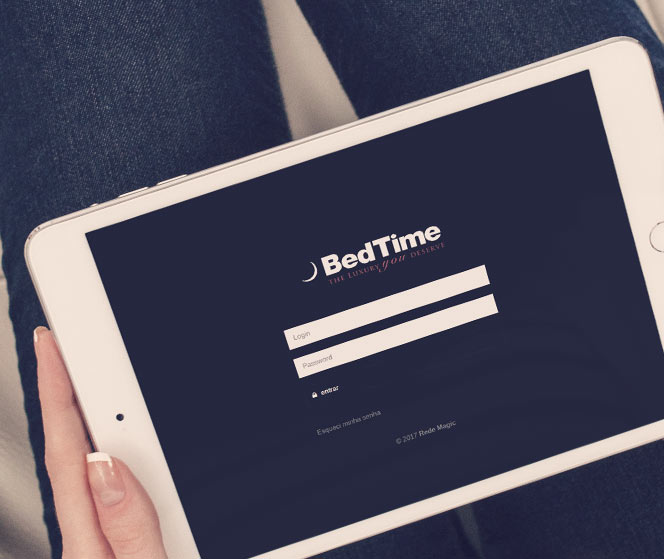 Digital Marketing with Sales Funnel
Purchasing a high value-added mattress is not always a decision made at the spur of the moment. For this reason, the digital marketing strategy proceeds through building a sales funnel with customer journey mapping.
Inbound Marketing with Lead Acquisition
Lead acquisition and scoring are treated as fundamental elements from website concept definition to the corporate blog, covering the entire Inbound Marketing strategy. Potential consumers are mapped based on pages browsed and actions performed, attributing scores that can be lower or higher and guiding them through the sales funnel.
Content Marketing
The brandĺs corporate blog is an accurate source of relevant content with technical knowledge, being fundamental in guiding consumer through the process of knowledge acquisition in relation to the different brands TEMPUR«, Micro-Tech and BedTime.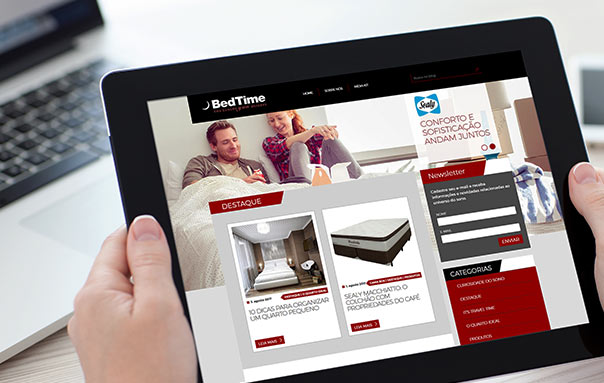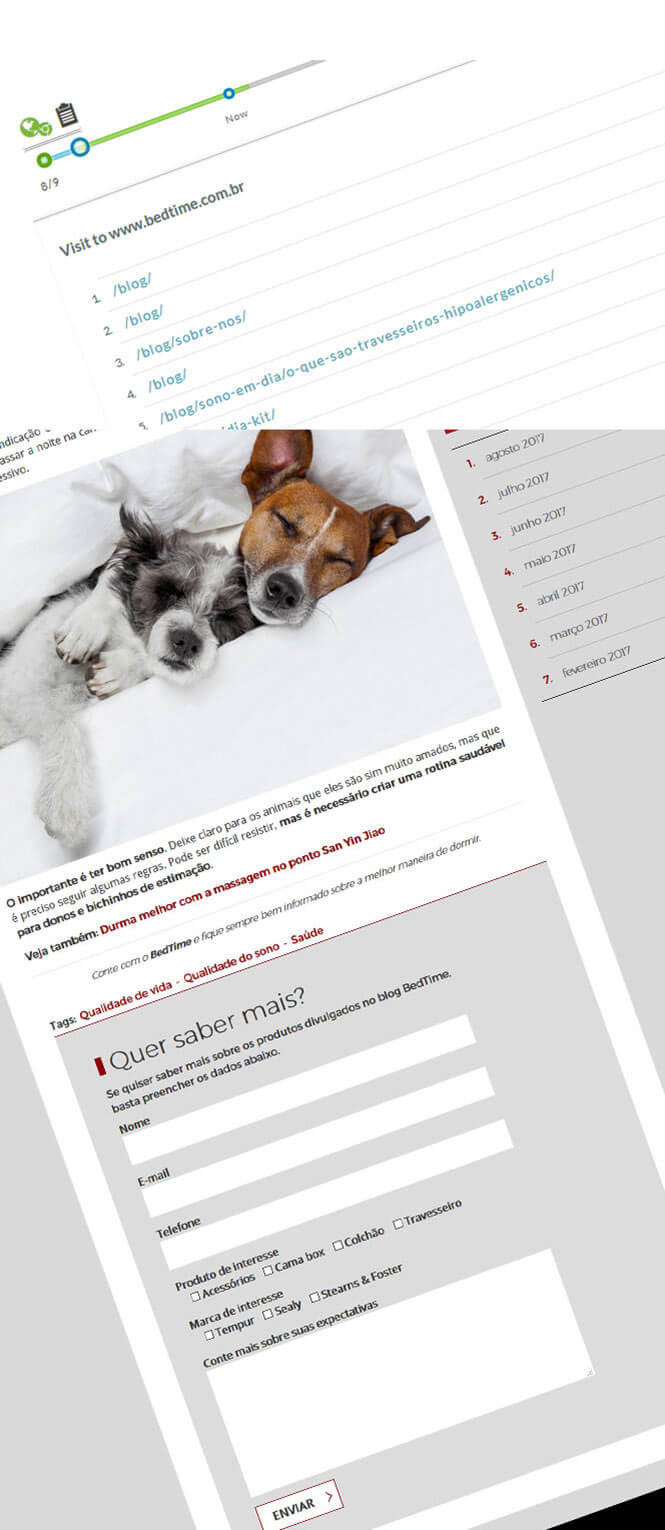 Social Media
Disclosure through social media is essential for the branding strategies of the different brands in Brazil. Channels such as Facebook, Instagram and YouTube are paramount for the publication of authorial/branded content, consumer interaction and driving sales.
Performance Media
The advertising work supplements all the previous efforts, through online campaigns, in particular media display, on different channels leading to the website and working towards conversion at points of sale through gauged metrics.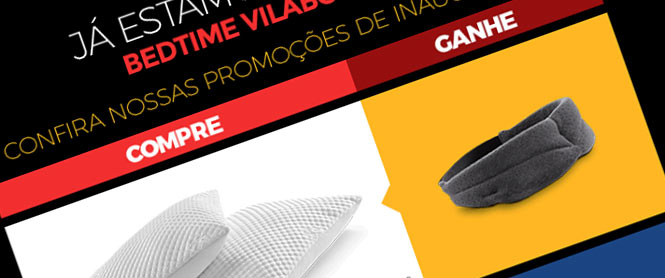 360║ (Integrated) Communications
Magicĺs communication strategy for Tempur Sealy is supplemented by centralized creation, breaking down concepts and campaigns both online and offline.
Campaigns undertaken in digital media have major backing at the brandĺs stores, counting with the collaboration of sales attendants in offering exclusive advantages to customers who interact with the company in both media.
Advertising and communication actions are conceived together, always bearing in mind the best possible integration that enables recording metrics in digital and close sales through the stores and e-commerce.