Branco Motores is synonymous of trust and tradition for Brazilians, with high technology, performance, safety and economy products targeted at segments such as construction ventures, agri-industry, gardening and others.
Established in 1936, the company is part of the Briggs & Stratton group, the world's largest manufacturer of gasoline powered engines, present in over 100 countries.
Commercial Web Site / Social Media / Fidelity Program / Intranet
Website with Predictive Search
Branco's responsive, mobile-friendly and multi-language website was built around the product catalog and focusing on steering consumers to dealerships or technical assistance points throughout Brazil.
The main function created was the intelligent predictive search system, with autocomplete and highlight of categories and brands. The search engine allows loading products in real time according to the terms of the search, driving browsing persistence between pages.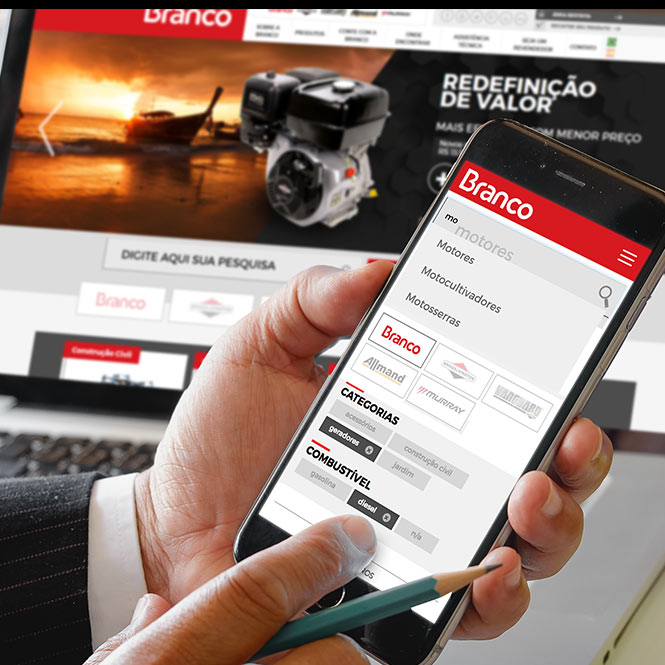 Intranet
Representative's Area
In parallel with the website, a representative access solution was built to enable access for representatives to product manuals, high-resolution pictures and technical files, in addition to enabling direct contact with the brand, placing product orders and meeting other communication needs.

Loyalty Program
Magic developed the scoring logic and implemented the loyalty program targeting brand representatives, performing points earned calculations based on sales volumes. The system allows participants to check their balances, redeem gifts and all the stages required for managing and control of the registered base.
Social Media with Content Marketing
Branco's Blog was created with technical content accessible to different user profiles as a space for authorial/branded content on the brand's different segments of activity, ranging from construction, agriculture to gardening.
Brand build, presence and strong user interaction were the characteristics of the digital marketing strategy that encompasses a range of social channels, including Facebook and YouTube.